The bathroom is a really cold room. It's physically cold. It seems when the extension was built in the 70s they didn't bother to insulate the walls or the floor. The encaustic tiles, though very trad and perfect in a utility/boot room, are just awful for a bathroom. The room feels cold psychologically too. There's a slightly grey cast to the tiles (cheap tiles, I'd wager), the painted walls are finished in a high-sheen paint and the garden facing ours has the hugest conifer trees which mean the light coming in has a bluey-green cast, then reflected around the room by the shiny tiles and shiny walls.
I've tried four different tester pots of warm colours on the walls. I don't like any of them. Warm white, I thought. That'll do the trick. Boring. Beige with an undertone of lilac? Also dull. Grey-lilac? Still cold. Truffle? Ugh. Not for a bathroom. So we might work with what we've got and go for my first choice, which is a greeny-blue. And then I'll cross my fingers that I don't shiver every time I walk in the bathroom.
Update: I got my F&B tester pot haul yesterday. I bought a pink colour to use in a renovation project. Since the wall is already a mess I splodged some on the wall alongside the other tester patches. Here is the whole scary mess.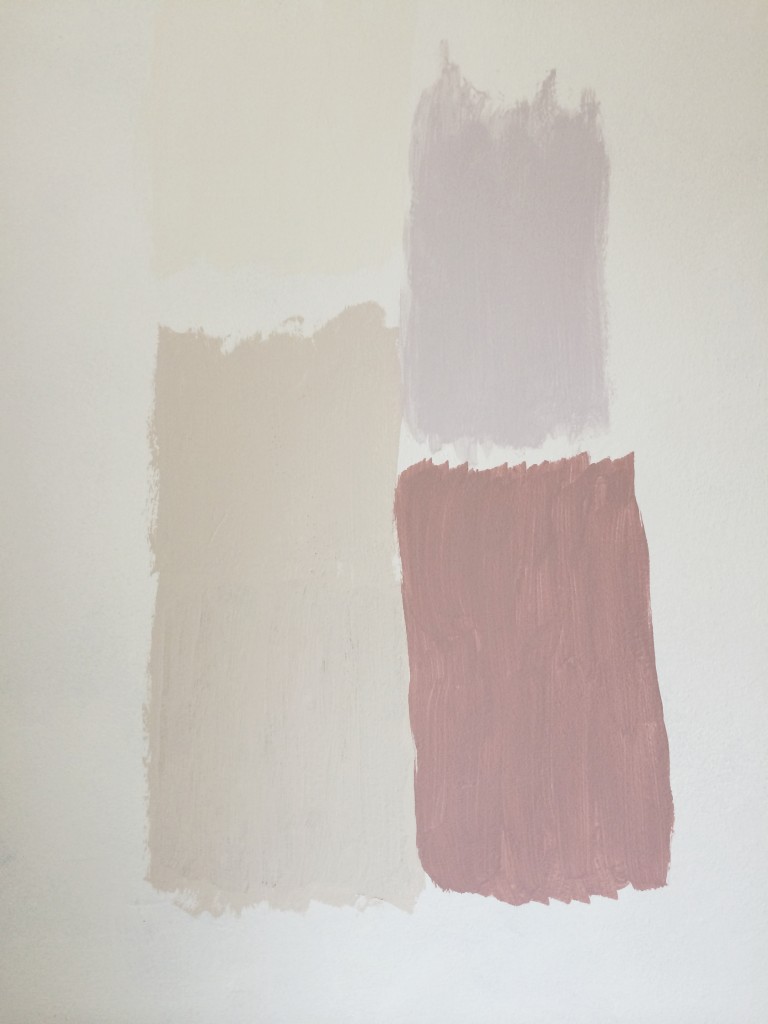 Clockwise from top left: Dulux Jasmine White, Wilko Stardust, Farrow and Ball Cinder Rose, Dulux Walnut White.